Updated March 15, 2018
---
We are frequently asked about the levels of credit union merger activity.
Credit Union Merger Stats
This is the first of an ongoing series of posts regarding the state of the industry. Follow up posts will include other industry data points including the percentage size of the acquired credit union to the acquirer, reasons for the merger, etc. We will also follow-up with insights from our own merger valuation work including the number of transactions we see which result in goodwill, trends in the value of the core deposit intangible, the average value of the loan portfolios acquired, etc. If you are interested in a specific data point, please let us know.
As the graph below shows the number of mergers has decreased over the most recent two years.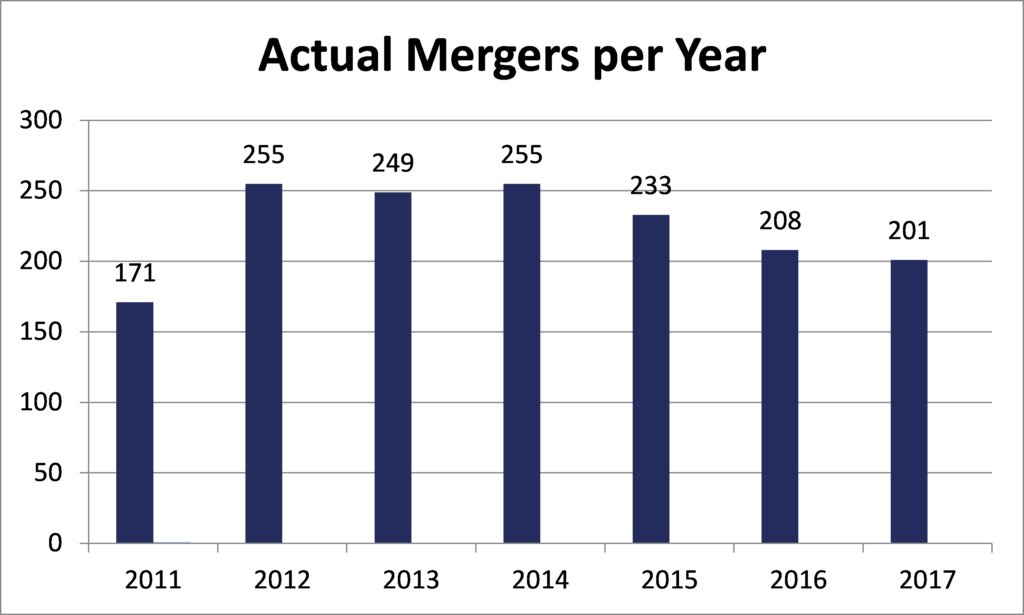 Based on NCUA approvals and the final quarter a call report was filed

Based on NCUA approvals and the final quarter a call report was filed
Credit Union Mergers by State
Pennsylvania, California and Illinois led the way with more than 100 mergers taking place in each state from 2011 to 2017. We note that Wisconsin experienced the largest percentage of its credit unions merging into another institution for a cumulative 38.99% since 2011.
 Based on the total number of active credit unions at the beginning of 2011
Top Credit Union States by Count
Not surprisingly, many states that have experienced the largest number of mergers also have the highest count of credit unions. Both Texas and Pennsylvania had over 500 credit unions as of the beginning of 2011 but had 467 and 386, respectively, as of December 31, 2017.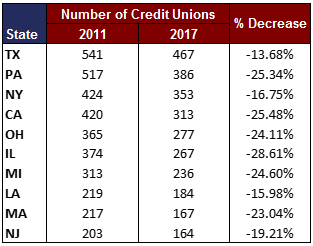 Source: S&P Global Market Intelligence
If you are considering a merger, please contact us for more information regarding our merger valuation services.